POCKET PEDALS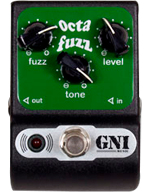 OCTA FUZZ - POC
Analog Octaver capable generating an octave above of the original note. Based on a classic circuit, the Octa Fuzz creates a vintage sound when combined with fuzz.
Controls
FUZZ: Intensity of fuzz when it blends with the octave sound
TONE: Let's you adjust the amount of high tones in your sound.
LEVEL: Output level.
Global Specs
Power: Standard 9V Battery or Regulated 9 volt DC, center negative power supply. (Note: This product uses up to 30mA, but GNI recommends 300mA supplies due to typically increased robustness/reliability).
Bypass mode: True Bypass
Input Impedance: 500 kΩ
Output impedance: 1 kΩ
Size: 60x105x74 (mm) 2.36x4.13x2.91 (in)
Weight: 435g (0.960 lbs)
GNI Octa Fuzz - by Pro Guitar Shop